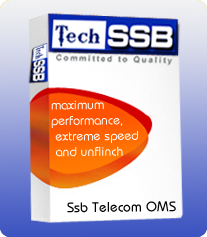 Ssb
Telecom OMS
Order Processing of all type of ILL and VOIP Orders and Other Request related to Customer taken Services
New Orders
Up-Gradation
Down-Gradation
Shifting
Migration
Price-Revision
Termination
All Other Service Related Request
Purpose
Standardized Process for all Locations and for all Modes of Sales to ensure uniformity, speed and accuracy in delivery of product to the Customer

Online Process would also make it easier to monitor TATs and track orders.

Direct Internet (DI) Lead Management would keep a track of the pre-activity of the respective users for the leads coming into the system.
Process Scope
Process Covers all Locations, where Access, VOIP and VAS product would be sold through Sales & CRM Team.
OMS Process
Main Features
Centralized Database
Live connected with BMS LMS and SUPPORT HELP DESK module
Multi user access
Multi group access
Multi branch access
Secured data
Daily Auto scheduled backup
Easy re-store option
Dynamic approval Matrix
Auto generation of Welcome letter for Customer
Auto customer services status managed on installation and termination in BMS
Control Panel(Admin panel)
Mapping of products with bandwidth
Manage all type of attached document
Manage BSO Mail Setting
Manage Menu rights
Manage users at single and multi branch level
Masters management like city, state, product, bandwidth, BSO etc.
Manage User Rights concept
Manage installation city rights
Add/Edit user information
Add/Edit Order payment and product details
Manage BSO setting with city wise
New Order
Create new lead for new and existing customer both
Cancel & edit and view lead option
Send for feasibility check
BSO Feasibility
Auto mail generation to third party BSO
Ability to do multiple BSO feasibility
Technical feasibility with Not Feasible & Feasible status
Technical feasibility on specific BSO
Order entry either booked orders or created orders
Lead Cancellation at order Entry Step
Edit Orders at level of booked order
Can't modify order details when order has created
Auto send for approval when order created
Set Dynamic Approval according to product & category
Use DOA concept in approval matrix
Approved/Reject order at approval step
Edit orders again when it has been rejected
Cancelled orders form rejected orders bin
Auto mail generated each and every step for intimation next level
Sent auto mail to provisioning team for order provision
After provisioning auto sent to installation team for physically link installation
Upload installation report which is signed by customer at time of link installation
Set date of link installation
Set date of link activation
After installation its auto affected to LMS,BMS and Helpdesk
Upgrade Order
Create new upgrade request with effective date for existing customer only
Request like simple upgrade
Request like upgrade+migration
Request like upgrade+shifting
Request like upgrade+shifting+migartion
Ability to change product,bandwith and delivery mode
Ability to select only higher range of product & bandwidth
listing all details of customer against customer code
BSO Feasibility
Auto mail generation to third party BSO
Technical feasibility with Not Feasible & Feasible status
Technical feasibility on specific BSO
Order entry either booked orders or created orders
Lead Cancellation at order Entry Step
Edit Orders at level of booked order
Can't modify order details when order has created
Auto send for approval when order created
Set Dynamic Approval according to product & category
Approved/Reject order at approval step
Edit orders again when it has been rejected
Cancelled orders form rejected orders bin
Sent auto mail to provisioning team for order provision for up gradation
Upload installation report which is signed by customer at time of link up gradation
Set date of link up gradation according to effective date
After up gradation its auto affected to LMS,BMS and Helpdesk
Downgrade Order
Create new Downgrade request with effective date for existing customer only
Ability to change product,bandwith and delivery mode
Ability to select only same or lower range of product & bandwidth
listing all details of customer against customer code
Order entry either booked orders or created orders
Lead Cancellation at order Entry Step
Edit Orders at level of booked order
Can't modify order details when order has created
Auto send for approval when order created
Set Dynamic Approval according to product & category
Approved/Reject order at approval step
Edit orders again when it has been rejected
Cancelled orders form rejected orders bin
Sent auto mail to provisioning team for order provision for up gradation
Upload installation report which is signed by customer at time of link down gradation
Set date of link down gradation according to effective date
After Down gradation its auto affected to LMS,BMS and Helpdesk
Price Revision Order
Create new Price revision request with effective date for existing customer only
Ability to change price not product
listing all details of customer against customer code
Can't modify order details when order has created
Auto send for approval when order created
Set Dynamic Approval according to product & category
Approved/Reject order at approval step
Edit orders again when it has been rejected
Cancelled orders form rejected orders bin
Sent auto mail to billing team for price revision of order
This request is closed by billing team with the effective date
Termination
Create new termination request with effective date for existing customer only
Reason for termination
listing all details of customer against customer code
Can't modify order details when order has created
Auto send for approval when order created
Set Dynamic Approval according to product & category
Approved/Reject order at approval step
Edit orders again when it has been rejected
Cancelled orders form rejected orders bin
Sent auto mail to technical team for link termination
This request is closed by technical team with the effective date
Auto affect the BMS, LMS and Helpdesk
Shifting Order
Create new shifting request with effective date for existing customer only
Ability to enter new installation address and delivery mode
listing all details of customer against customer code
BSO Feasibility according to new address
Auto mail generation to third party BSO
Technical feasibility with Not Feasible & Feasible status
Technical feasibility on specific BSO
Order entry either booked orders or created orders
Shifting request Cancellation at order Entry Step
Edit Orders at level of booked orderv
Can't modify order details when order has created
Auto send for approval when order created
Set Dynamic Approval according to product & category
Approved/Reject order at approval step
Edit orders again when it has been rejected
Cancelled orders form rejected orders bin
Sent auto mail to provisioning team for order provision for new address
Upload installation report which is signed by customer at time of link shifted
Set date of link shifted according to effective date
After shifted its auto affected to LMS,BMS and Helpdesk
Migration Order
Create new Migration request with effective date for existing customer only
Ability to enter new delivery mode
listing all details of customer against customer code
BSO Feasibility according to new address
Auto mail generation to third party BSO
Technical feasibility with Not Feasible & Feasible status
Technical feasibility on specific BSO
Order entry either booked orders or created orders
Shifting request Cancellation at order Entry Step
Edit Orders at level of booked order
Can't modify order details when order has created
Auto send for approval when order created
Set Dynamic Approval according to product & category
Approved/Reject order at approval step
Edit orders again when it has been rejected
Cancelled orders form rejected orders bin
Sent auto mail to provisioning team for order provision for new delivery mode
Upload installation report which is signed by customer at time of link migrated
Set date of link migrated according to effective date
After migrated its auto affected to LMS,BMS and Helpdesk
Other Requirement Order:
Create new OR request with effective date for existing customer only
Ability to select any of requirement like change billing cycle, backup link, demo upgrade, customer name etc
listing all details of customer against customer code
BSO Feasibility according to requested requirement
Auto mail generation to third party BSO
Technical feasibility with Not Feasible & Feasible status
Technical feasibility on specific requested requirement
Can't modify order details when order has created
Auto send for approval when order created
Set Dynamic Approval according to requested requirement
Approved/Reject order at approval step
Edit orders again when it has been rejected
Cancelled orders form rejected orders bin
Sent auto mail to requested requirement team.
Upload any document if required which is signed by customer at time of request implemented
Set effective date for requested requirement
After closed its auto affected to LMS, BMS and Helpdesk
Daily Activity Report:
Create new DAR request with effective date for existing customer only
Ability to select DAR request with related to upgrade,downgrade,price revision, termination etc
listing all details of customer against customer code
View DAR Requests
Approval from RM/ZM at initial steps according requirement of requested DAR
Approval Form ZNM if required
Approval from Head Office
Approval for CSCH
DAR Report
View Survey details
DAR Report details
CRM Vs Customer Report
CRM Performance Report
Branch Performance Report
Cancellation
This is the special process flow of all type of
cancelled orders
Special Approvals for cancelled orders
Using fund refundable concept by intimation mail
with all information
manage all cancelled order with reason and date
and cancelled by
all type of approval details listing
Option for send back to again order creation
Software Architecture
a) Operating System = Linux
b) Database = MYSQL
c) Web Service = Apache
d) Application/Utility = SFTP, SSH, Send Mail, Asterisk
e) Scripting Language = PHP, Perl, Cgi