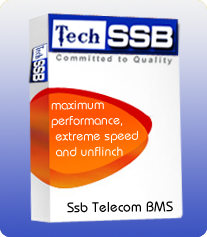 Ssb
Telecom BMS
Central Database for all ILL and Bundled VOIP Customer. Centralized Bill Generation of ILL Orders.
Centralized database for ILL and Bundled VoIP Customers
Spot / First cycle Billing of OMS New Orders
Regular Cycle Billing
Debit and Credit Notes
Payments and Adjustments
Customer Ledger
Reports
Purpose
Direct Internet (DI) Billing Management System would keep a track of the all ILL Customers Service details and history record which is coming into the Billing system.

Bill Generation with Payment, Debit and Credit Notes option. Speed and accuracy in delivery of Bills to the Customer.
Process Scope
Auto Bill generation of all ILL Services take by TCISL Customers.
Process Flow
Billing Options
Main Features
Centralized Database
Live connected with DIIMS LMS and SUPPORT HELP DESK module
Multi user access
Multi group access
Multi branch access
Secured data
Daily Auto scheduled backup
Easy re-store option
Last undo option on CR/DR Notes and Invoices
Auto generation of DR/CR Notes on upgrade, downgrade, price-revision and shifting from DIIMS
Auto customer services status managed on installation and termination from DIIMS
Product
Billing reminders sent to clients prior to due and
over due invoice
Ease search product/service through database
Enable/disable Pro-rated billing per product
Enable/disable discount per product
Customer(NOT ACTIVATED)
Quick send email
Ease search customer through database
Set custom suspended message for each client
Flexible account creation date
Lock/Unlock client to prevent client change their info
Payments
Define mode of payment
Branch wise collection can be added to billing system
Invoice wise TDS segregation
Manage payment status(Add Payment, Approve Payment, Mark as Bounce) group wise + branch wise
Add payment as an advance or against invoice
Full payment
Partly payment
Payment reports customer wise branch wise
Payment reports invoice wise, fully-paid, partly-paid or advance payments
Collection report branch wise, customer wise
Bounced cheque report
Invoice
Ability to reset invoice number
View all, paid, unpaid, cancelled or refunded invoice
Cancellation of Invoices with Dr/Cr notes and with re-generation feature
Invoice aging
Ledger report
Invoice generation can be managed single link/service wise and group wise as per customer request
Generate invoice (if you do not have access to cron-job/win task)
Ability to set custom message for invoice
Invoice Aging reports
Manage TDS
View Revenue Reports
Print invoice in PDF or HTML format
Approve Debit/Credit notes
Cancel Notes with reversal entry
Custom currency
Custom date and pricing number format
Mark invoice as paid or unpaid
Automatic send due/over due invoice to client
Ease search invoice through database
View refunded invoice/transaction
Department
Create unlimited department
Create unlimited admin/Any Level
Access features support
Edit or delete admin/Any Level
Other Tools and Modules
Support Mailing lists
Ability to add news or announcements
View latest logs activities
Misc Features
Tax support based on countries
Support SSL
Admin / Tech Area Features
Ability to reset invoice number
View all, paid, unpaid, cancelled or refunded invoice
Cancel Invoices
Ability to set custom message for invoice
Print invoice in PDF or HTML format
Manage TDS with reports
View Revenue with reports
Manage Debit / Credit Notes
Custom date and pricing number format
Mark invoice as paid or unpaid
Automatic send due/over due invoice to client
Ease search invoice through database
Customer report branch wise, multi service wise and invoice detail wise
Multiple payment gateway based on your need
Add custom payment/collection against opening balance, invoices and as an advance
Send single/multiple email in HTML or text as well as attachment
Send due or over due invoice
Add unlimited department
Set Admin Level
Create product category
Ease search product
View latest activities
Add or delete Admin users
Add Admin department and set access level
Set Date format
Create News/Announcement
View revenue report
Temporary disable product
Manually add email to mailing lists database
Lock/Unlock client information